SEARCH
Purchase Your Order Status Enquiry
WHY CHOOSE US
Security Payment

We support 20 multiple Global Currencies and various security kinds of payment methods by PayPal, Skrill(MoneyBooker), PaySafeCard to buy fifa coins convenient.

Best Price

Enough cheap FIFA 20 Coins & FIFA Coins Account in-stock, we always keep the lowest price and FIFA Coins discount coupon code you can get for all fifa platforms.

Instant Delivery

Sufficient FUT Coins & FUT 20 Coins can ensure delivery in 5-30 mins, easy to order, safe to buy, 24/7 LIVECHAT online support solves your FIFA Coins transaction problems!

Safety Gurantee

Professional online service allow us to efficiently deal with all issues and guarantee FIFA 20 Coins & FIFA 20 Coins Accounts 100% safe and 100% refund policy.
Home
>>
News
>>
1339 Fifa 17 Suarez Sbc Cheapest Squad To Complete Fifa 17 Laliga Santander Sbc For 94 Suarez, Fifa Coins, Gold Packs
FIFA 17 Suarez SBC - Cheapest Squad To Complete FIFA 17 LaLiga Santander SBC For 94 Suarez, FIFA Coins, Gold Packs
2017/2/8 15:03:58
The new FIFA 17 LaLiga Santander SBC bring surprises to players. Except the 94 SBC Suarez, 20 packs worth 400k and 30K fifa coins will be delivered to winners who completing the 20 squad building challenges. But it is not easy to complete the full SBC as many players get pricefixed. Now follow us to know the requirements and rewards of all challenges, find out the cheapest squads builder to finish FIFA 17 Suarez SBC.
FIFA 17 Laliga Santander Squad Building Challenges - FIFA 17 Suarez SBC
Exchange squads with teams from LaLiga Santander to earn a special SBC Suárez (untradeable)
Rewards
94 SBC Suarez x 1
30,000 FIFA Coins
Challenge 1 - Athletic Bilbao
Exchange a squad of Athletic Bilbao players
Rewards
GOLD PLAYERS PREMIUM PACK x 1
Requirements
Exactly 11 Athletic Club de Bilbao Players

Min. Team Rating: 77

Min. Team Chemistry: 95

Number of Players in the Squad: 11
Cheapest Squad Builder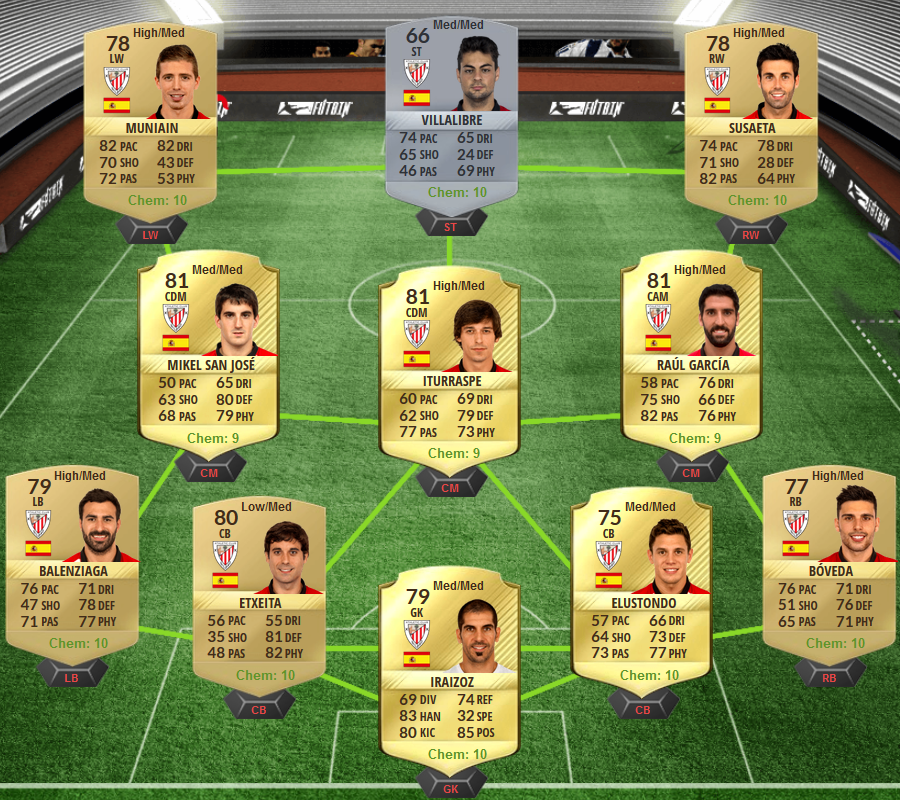 Challenge 2 - Atlético Madrid
Exchange a squad of Atlético Madrid players
Rewards
PRIME GOLD PLAYERS PACK x 1
Requirements
Exactly 11 Atlético Madrid Players

Min. Team Rating: 85

Min. Team Chemistry: 95

Number of Players in the Squad: 11
Cheapest Squad Builder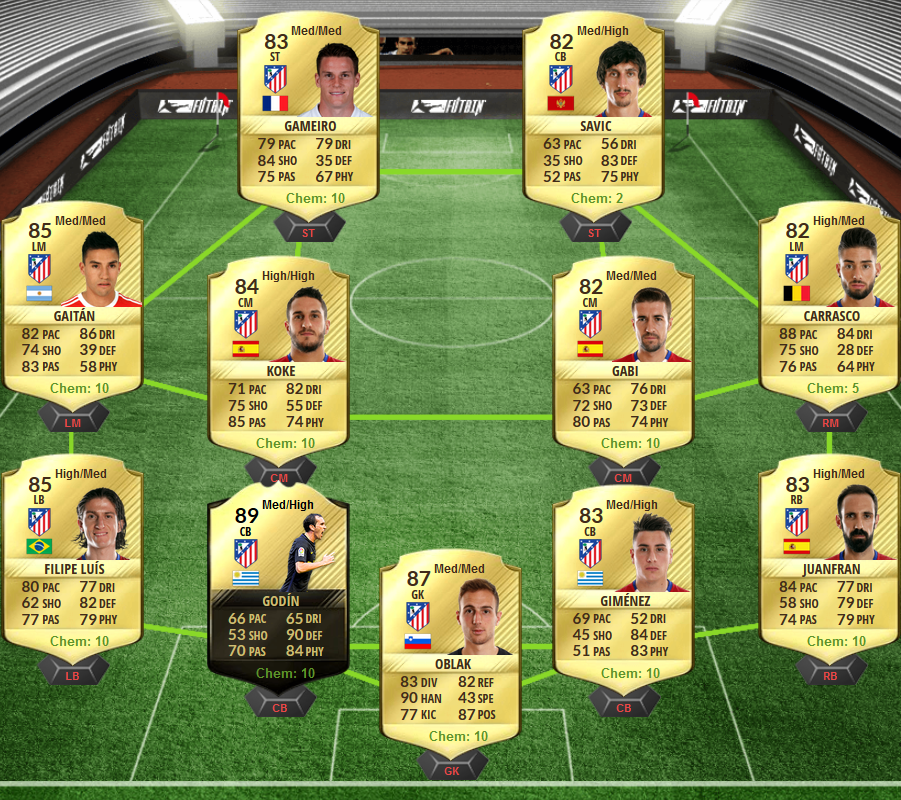 Challenge 3 - CA Osasuna
Exchange a squad of CA Osasuna players
Rewards
GOLD PACK x 1
Requirements
Exactly 11 CA Osasuna Players

Min. Team Rating: 71

Min. Team Chemistry: 95

Number of Players in the Squad: 11
Cheapest Squad Builder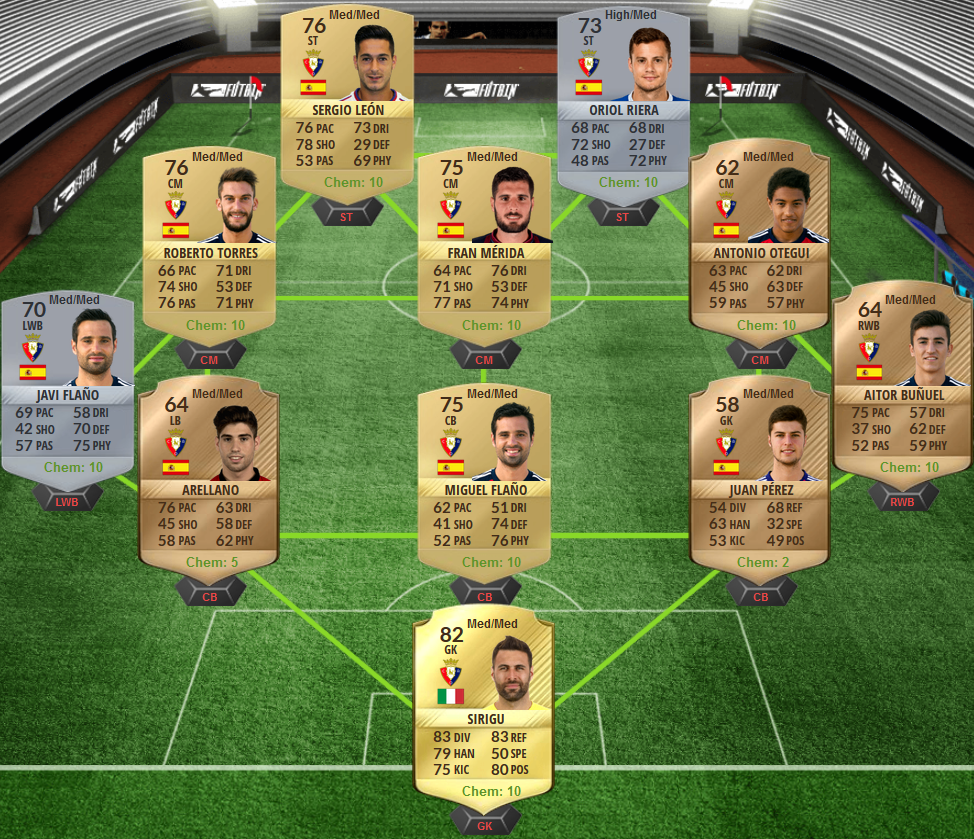 Challenge 4 - CD Leganés
Exchange a squad of CD Leganés players
Rewards
JUMBO GOLD PACK x 1
Requirements
Exactly 11 CD Leganés Players

Min. Team Rating: 73

Min. Team Chemistry: 95

Number of Players in the Squad: 11
Cheapest Squad Builder
Challenge 5 - Celta Vigo
Exchange a squad of Celta Vigo players
Rewards
PREMIUM GOLD JUMBO PACK x 1
Requirements
Exactly 11 RC Celta de Vigo Players

Min. Team Rating: 75

Min. Team Chemistry: 95

Number of Players in the Squad: 11
Cheapest Squad Builder
Challenge 6 - Deport. Alavés
Exchange a squad of Deport. Alavés players
Rewards
JUMBO GOLD PACK x 1
Requirements
Exactly 11 Deportivo Alavés Players

Min. Team Rating: 73

Min. Team Chemistry: 95

Number of Players in the Squad: 11
Cheapest Squad Builder
Challenge 7 - FC Barcelona
Exchange a squad of FC Barcelona players
Rewards
MEGA PACK x 1
Requirements
Exactly 11 FC Barcelona Players

Min. Team Rating: 85

Min. Team Chemistry: 95

Number of Players in the Squad: 11
Cheapest Squad Builder
Challenge 8 - Granada CF
Exchange a squad of Granada CF players
Rewards
PREMIUM GOLD PACK x 1
Requirements
Exactly 11 Granada CF Players

Min. Team Rating: 73

Min. Team Chemistry: 95

Number of Players in the Squad: 11
Cheapest Squad Builder
Challenge 9 - Málaga CF
Exchange a squad of Málaga CF players
Rewards
RARE GOLD PACK x 1
Requirements
Exactly 11 Málaga CF Players

Min. Team Rating: 75

Min. Team Chemistry: 95

Number of Players in the Squad: 11
Cheapest Squad Builder
Challenge 10 - RC Deportivo
Exchange a squad of RC Deportivo players
Rewards
PREMIUM GOLD PACK x 1
Requirements
Exactly 11 RC Deportivo de La Coruña Players

Min. Team Rating: 75

Min. Team Chemistry: 95

Number of Players in the Squad: 11
Cheapest Squad Builder
Challenge 11 - RCD Espanyol
Exchange a squad of RCD Espanyol players
Rewards
RARE GOLD PACK x 1
Requirements
Exactly 11 RCD Espanyol Players

Min. Team Rating: 76

Min. Team Chemistry: 95

Number of Players in the Squad: 11
Cheapest Squad Builder
Challenge 12 - Real Betis
Exchange a squad of Real Betis players
Rewards
PREMIUM GOLD JUMBO PACK x 1
Requirements
Exactly 11 Real Betis Balompié Players

Min. Team Rating: 76

Min. Team Chemistry: 95

Number of Players in the Squad: 11
Cheapest Squad Builder
Challenge 13 - Real Madrid
Exchange a squad of Real Madrid players
Rewards
RARE PLAYER PACK x 1
Requirements
Exactly 11 Real Madrid CF Players

Min. Team Rating: 86

Min. Team Chemistry: 95

Number of Players in the Squad: 11
Cheapest Squad Builder
Challenge 14 - Real Sociedad
Exchange a squad of Real Sociedad players
Rewards
PREMIUM GOLD JUMBO PACK x 1
Requirements
Exactly 11 Real Sociedad Players

Min. Team Rating: 76

Min. Team Chemistry: 95

Number of Players in the Squad: 11
Cheapest Squad Builder
Challenge 15 - SD Eibar
Exchange a squad of SD Eibar players
Rewards
PREMIUM GOLD JUMBO PACK x 1
Requirements
Exactly 11 SD Eibar Players

Min. Team Rating: 74

Min. Team Chemistry: 95

Number of Players in the Squad: 11
Cheapest Squad Builder
Challenge 16 - Sevilla FC
Exchange a squad of Sevilla FC players
Rewards
PRIME GOLD PLAYERS PACK x 1
Requirements
Exactly 11 Sevilla FC Players

Min. Team Rating: 80

Min. Team Chemistry: 95

Number of Players in the Squad: 11
Cheapest Squad Builder
Challenge 17 - Sporting Gijón
Exchange a squad of Sporting Gijón players
Rewards
RARE GOLD PACK x 1
Requirements
Exactly 11 Real Sporting de Gijón Players

Min. Team Rating: 74

Min. Team Chemistry: 95

Number of Players in the Squad: 11
Cheapest Squad Builder
Challenge 18 - UD Las Palmas
Exchange a squad of UD Las Palmas players
Rewards
GOLD PLAYERS PACK x 1
Requirements
Exactly 11 UD Las Palmas Players

Min. Team Rating: 75

Min. Team Chemistry: 95

Number of Players in the Squad: 11
Cheapest Squad Builder
Challenge 19 - Valencia CF
Exchange a squad of Valencia CF players
Rewards
GOLD PLAYERS PREMIUM PACK x 1
Requirements
Exactly 11 Valencia CF Players

Min. Team Rating: 77

Min. Team Chemistry: 95

Number of Players in the Squad: 11
Cheapest Squad Builder
Challenge 20 - Villarreal CF
Exchange a squad of Villarreal CF players
Rewards
GOLD PLAYERS PREMIUM PACK x 1
Requirements
Exactly 11 Villarreal CF Players

Min. Team Rating: 78

Min. Team Chemistry: 95

Number of Players in the Squad: 11
Cheapest Squad Builder