SEARCH
Purchase Your Order Status Enquiry
WHY CHOOSE US
Security Payment

We support 20 multiple Global Currencies and various security kinds of payment methods by PayPal, Skrill(MoneyBooker), PaySafeCard to buy fifa coins convenient.

Best Price

Enough cheap FIFA 20 Coins & FIFA Coins Account in-stock, we always keep the lowest price and FIFA Coins discount coupon code you can get for all fifa platforms.

Instant Delivery

Sufficient FUT Coins & FUT 20 Coins can ensure delivery in 5-30 mins, easy to order, safe to buy, 24/7 LIVECHAT online support solves your FIFA Coins transaction problems!

Safety Gurantee

Professional online service allow us to efficiently deal with all issues and guarantee FIFA 20 Coins & FIFA 20 Coins Accounts 100% safe and 100% refund policy.
FIFA 18 Top 5 PSG Player Ratings Predictions - 93 Neymar, 88 Cavani and 86 Alves
2017/8/7 15:45:48
With Neymar transferring to PSG, we believe most of you must be interested in the ratings of PSG. Today we are going to share you our predictions of FIFA 18 top 5 Paris Saint-Germain player ratings, including Neymar, Cavani and Alves. Above is our full list. Check out whether your favorite PSG player is on the list.
1 Neymar 93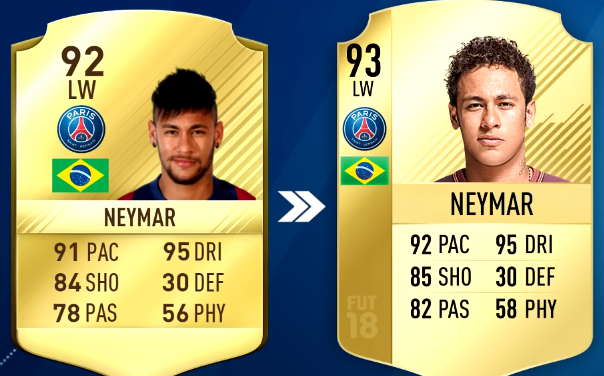 Neymar is a Brazilian professional footballer who plays as a forward for French club Paris Saint-Germain and the Brazil national team. He was bought from Barcelona and he will be the new superstar together with Messi. Neymar's dribbling skills, tricks and playmaking ability are reminiscent of compatriot Ronaldinho. His main traits are his creativity, vision, passing, finishing, dribbling, feints and technique, being described as both "electric" and "explosive". In the La Liga, the man scored 15 goals and 19 assists. That is just incredible. He could be the most favorite players in the world. So that's why we think his rating will be upgraded to 93.
2 Edinson Cavani 88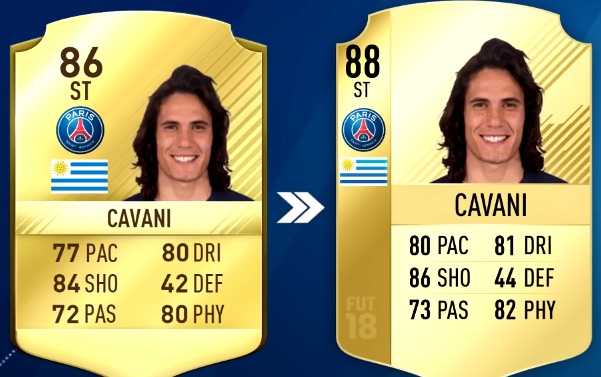 Edinson Cavani is a Uruguayan professional footballer who plays as a striker for Ligue 1 club Paris Saint-Germain and the Uruguay national team. A quick, strong, opportunistic and prolific forward with good technique, Cavani has been described as a "modern striker". He is known for his ability to score impressive goals, both in the air and with his feet, and for his tireless work-rate. He is also an accurate set-piece taker. He is just a beast on pitch. The man scored unbelievable 35 goals in the game. We will give him a big upgrade from 86 to 88.
3 Ángel Di María 87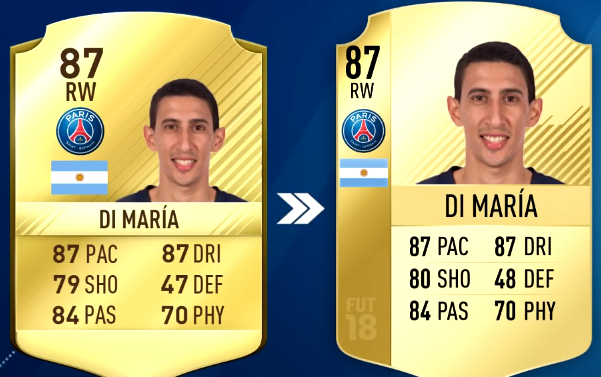 Ángel Di María is an Argentine professional footballer who plays for Ligue 1 club Paris Saint-Germain and the Argentina national team. He can play as either a winger or attacking midfielder. It was a season with ups and downs for him. However, after the winter he performed better and better. His achievements were 6 goals and 1 assist in total. But we still insist that 87 rated card is the maximum he can get right now.
4 Marco Verratti 86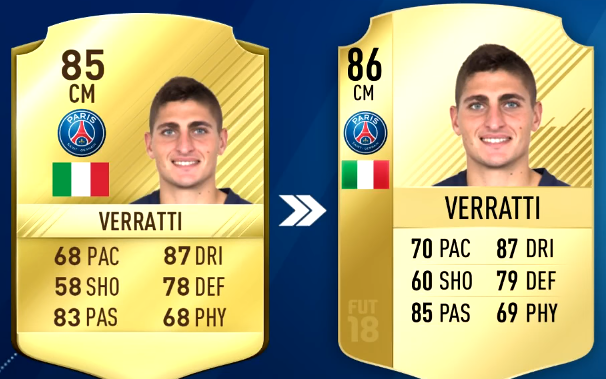 Marco Verratti is an Italian professional footballer who plays as a central midfielder for Ligue 1 club Paris Saint-Germain and the Italy national team. He can also be described as a creative, hard-working, and technically gifted playmaker. We can say that he is a big question in FIFA 18. Because Barcelona and Manchester United want to pay a lot of money to make him come to their squad. What will he decide? We think all the players in the squad will get a huge boost to stay with the club and he was one of the advancement fielders in Europe last season. So we predict his rating will go to 86.
5 Dani Alves 86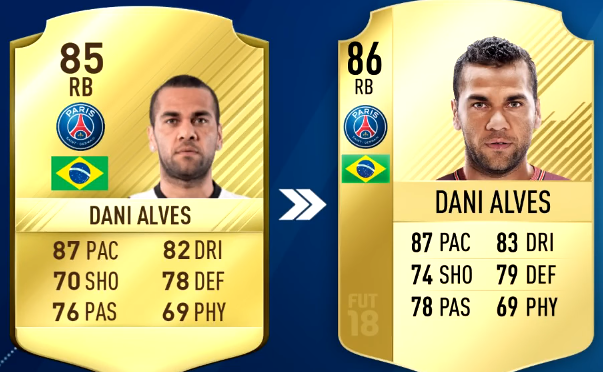 Dani Alves is a Brazilian professional footballer who plays as a right back for French club Paris Saint-Germain and for the Brazilian national team. Regarded as one of the best full-backs of his generation, Dani Alves is an offensive right-back or wing-back who is known in particular for his pace, stamina, overlapping attacking runs, and technical skills, which also enable him to play in midfield, or as a winger. He had 7 goals and 7 assists during last season. So we think maybe his rating will get a little upgrade from 85 to 86.
Cheap FIFA 18 Coins for sale on PS4, PS3, XB ONE, XB 360 and PC after FIFA 18 released at September 29, FIFA Coins coupon code "FIB" - 5% discount online.