SEARCH
Purchase Your Order Status Enquiry
WHY CHOOSE US
Security Payment

We support 20 multiple Global Currencies and various security kinds of payment methods by PayPal, Skrill(MoneyBooker), PaySafeCard to buy fifa coins convenient.

Best Price

Enough cheap FIFA 20 Coins & FIFA Coins Account in-stock, we always keep the lowest price and FIFA Coins discount coupon code you can get for all fifa platforms.

Instant Delivery

Sufficient FUT Coins & FUT 20 Coins can ensure delivery in 5-30 mins, easy to order, safe to buy, 24/7 LIVECHAT online support solves your FIFA Coins transaction problems!

Safety Gurantee

Professional online service allow us to efficiently deal with all issues and guarantee FIFA 20 Coins & FIFA 20 Coins Accounts 100% safe and 100% refund policy.
FIFA 18 FUT Premier League: Build Your Highest Rated Team
2017/9/4 18:35:00
FIFA 18 will be launched worldwide on Friday, September 29. Are you ready for building your own ultimate team of Premier league? We will give you a highest rating players list that some of the players in the list are might your targets. Those players had a good performance last season, and this team have good chemistry.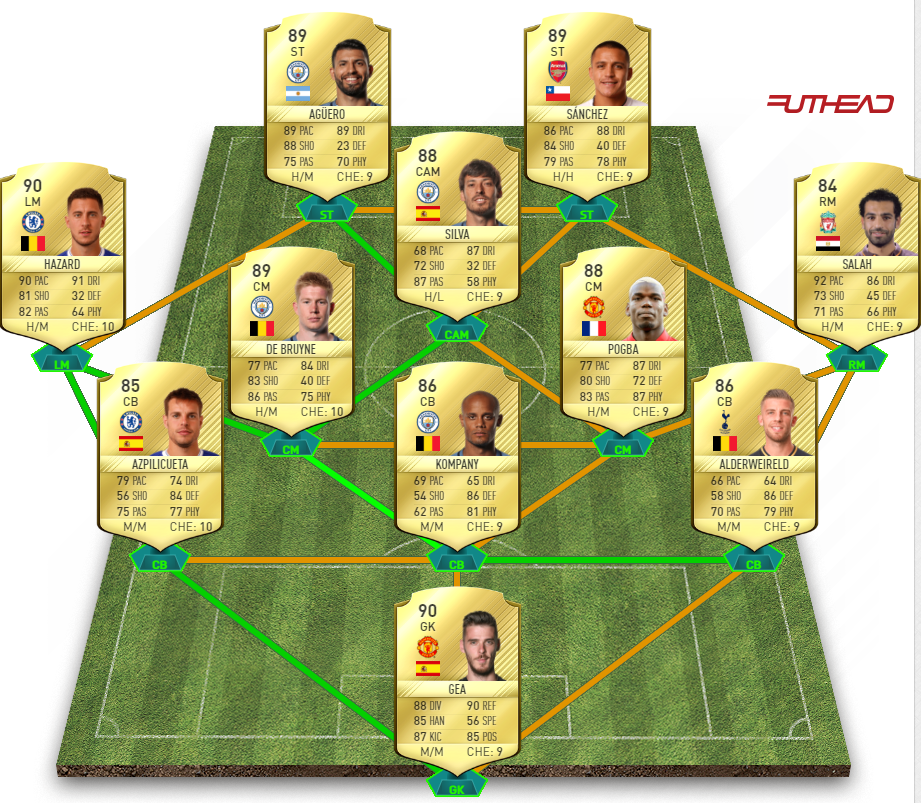 GK: De Gea
In the 2016/17 season, David De Gea has made a whopping 74 saves this year, and secured a starting role in almost every game. He was nothing short of the Great Wall for Manchester United and is the best keeper in the league. He will keep his 90 rating in FIFA 18.
CB: Toby Alderweireld
The way he played in real life reached the game world strong tackles but that doesn't really represent him that well on FIFA in the 2016/17 season. No one wants low defenders and that's the problem is. They need to give him some awesome stats on FIFA 18.
CB: Vincent Kompany
He is arguably the best in the League in the 2016/17 season. So his card 86 isn't even that high. Toward the end of the season, he came back and finished it off well. This season he is fit, so there is not any need to downgrade his card
CB: Azpilicueta
Spanish defender Cesar Azpilicueta deserved 85 after a standout performance in the 16/17 season. Azpilicueta has never really disappointed in a Chelsea shirt but this season he looked like being one of their most important players.
CM: Paul Pogba
Paul Pogba was in that deeper role in the 2016/17 season, so it couldn't really show those attacking capabilities. This season they allow him to play more of an advanced free roam role, and you can already see the difference.
CM: Kevin De Bruyne
Kevin De Bruyne is absolutely like a beast in that position for Man City in the 2016/17 season. He could even get 89 rated card. In overall, he is a better player.
RM: Mohamed Salah
Last season Salah was magical in the 2016/17 season. He scored a lot of goals and was very effective. Now coming to the premier league, you can already see the difference in Liverpool side, their attack pays on counters. Salah will get 84 for FIFA 18.
CAM: David Silva
In David Silva had about the whole 16/17 season stretch that was completely magical. Best player to have ever worn a City shirt. He consistently performs all the time and completely dictates games. His card should be 88.
LM: Eden Hazard
Eden Hazard scored a goal and could have scored another one. He played well and was one of the better players in the 16/17 season. The way he defended, his work rate and what he did for the team surely attract us. He should get 90 for FIFA 18.
ST: Alexis Sanchez
Unbelievable all the 16/17 season Sanchez started as a left winger, goal position change to that strike role and tore it up. 89 over all is what should he deserved. The team without him would be rough.
ST: Sergio Agüero
Sergio Agüero didn't even finish all of his games in the 16/17 season, he got injured, suspended, and he managed 33 goals. On the overall, cards basically judging the two strikers on how well they played, Sanchez and Agüero are on the same level right now.
Want to get these top players in FIFA 18? Stock some FIFA 18 Coins at the cheapest price on FIFACOINGO.COM at the first time.