SEARCH
Purchase Your Order Status Enquiry
WHY CHOOSE US
Security Payment

We support 20 multiple Global Currencies and various security kinds of payment methods by PayPal, Skrill(MoneyBooker), PaySafeCard to buy fifa coins convenient.

Best Price

Enough cheap FIFA 17 Coins & FIFA Points Account in-stock, we always keep the lowest price and FIFA Coins discount coupon code you can get for all fifa platforms.

Instant Delivery

Sufficient FUT Coins & FUT 17 Coins can ensure delivery in 5-30 mins, easy to order, safe to buy, 24/7 LIVECHAT online support solves your FIFA Coins transaction problems!

Safety Gurantee

Professional online service allow us to efficiently deal with all issues and guarantee FIFA 17 Coins & FIFA 17 Points Accounts 100% safe and 100% refund policy.
FIFA 18 Chemistry Guide-How to build an Ultimate Team with best chemistry
9/30/2017 3:09:39 PM
Chemistry is very important in FIFA 18 and are pretty hard to make sense of. The Chemistry were introduced for the first time ever in FIFA 06 but, to many people, they are too complex. In this chemistry guide, fifacoinsgo.com will explain how chemistry work in game, and give you a straightforward conception about how to use them properly.
FIFA 18 Player Chemistry
What are FIFA 18 player chemistry?
The player has maximum chemistry is to put him it in the correct position. The position of each player is shown on his card. There are 17 available positions in the game: goalkeeper, left/right back, left/right wing back, centre back, centre defensive midfielder, centre midfielder, centre attacking midfielder, left/right midfielder, left/right winger, centre forward, left/right forward and striker.
If a player has appropriate connections with the rest of the composition, he will have 10 chemistry only when he has been correctly positioned in the formation. However, if he occupies a position similar to his original one he will receive 9 chemistry points. That should prove sufficient for your needs, as the difference of a single point is nearly indistinguishable. For example, Ronaldo in the LW position will have 9 chemistry if he is positioned as a left midfielder or left striker in the line-up. However, if he were to occupy a right winger position, it would result in him having only 6 chemistry. All of the above is based on the assumption that he has full chemistry with the rest of his teammates.
FIFA 18 Player Chemistry Position 1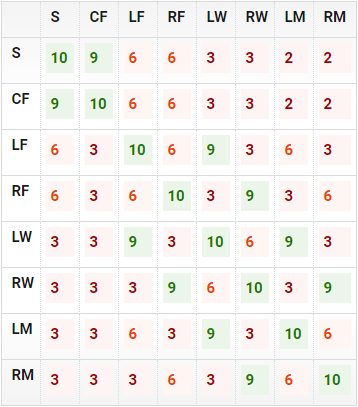 FIFA 18 Player Chemistry Position 2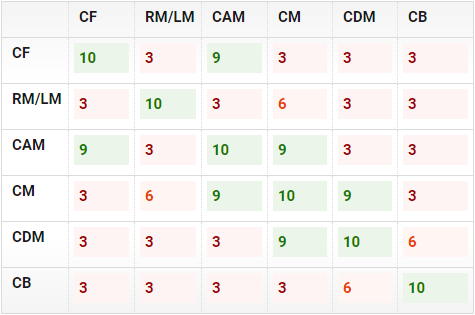 FIFA 18 Player Chemistry Position 3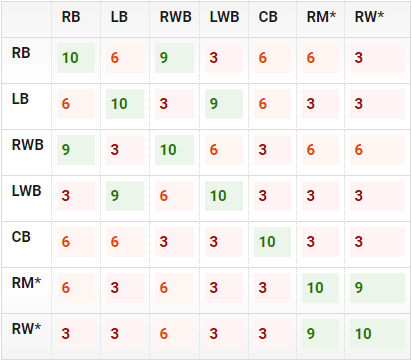 FIFA 18 Team Chemistry
What are FIFA 18 Team chemistry?
In every team the players in specific positions are connected to each other. Between them you will see red, orange or green connections. For a player to have full chemistry, he must be surrounded by players that he gets along with.
It's what the two linked players have in common (out of club, league, and nationality) that dictates the colour of the link. Red means nothing in common, decreasing Player and Team Chemistry. Orange means one thing in common, increasing Player and Team Chemistry. Green means two or more qualities in common, increasing Player and Team Chemistry by more than orange. The real outcome, however, is determined by all of the links from a player: see red as -1, orange as +1, and green as +2. Totalling up all the links, you'll want to end up positive for that player to gain a Chemistry boost from them.
FIFA 18 Team Chemistry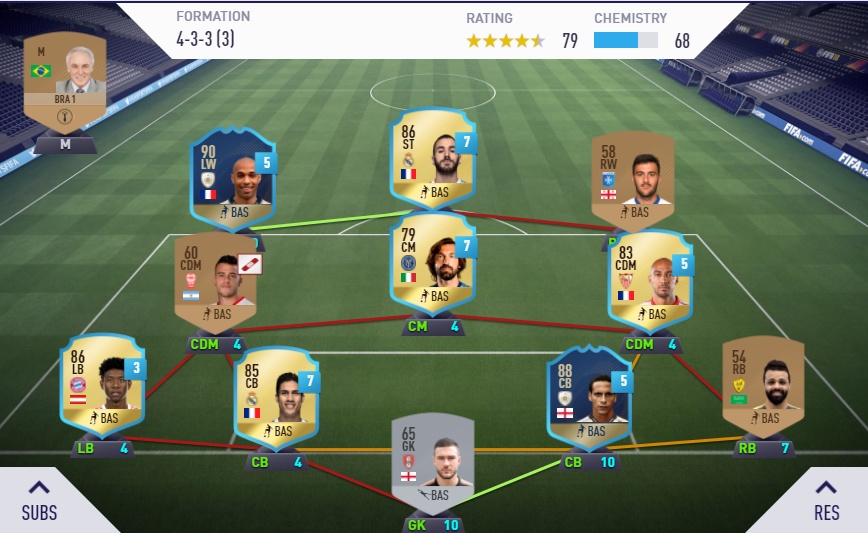 FIFA 18 Chemistry Styles
What are FIFA 18 Chemistry Styles?
Chemistry Styles are consumable cards. As any other consumable, they can be purchased on the market, or obtained from a pack.
Players receive boosts for a chosen number of stats dependent on the Chemistry Style selected. These cards can be applied to a player to change their style of play adjusting the players attributes to their squad needs. They redistribute the stats that will receive chemistry boosts. Chemistry boosts will increase the value of specific in-game stats – thus increasing the player's ability to perform.
Styles List:
FIFA 18 Styles List Attack

FIFA 18 Styles List Midfield

FIFA 18 Styles List Defence

FIFA 18 Styles List Goalkeeper

FUTBIN Consumables: FIFA 18 Chemistry Styles Prices and Information
FIFA18 Bonus Chemistry
Manager
Similarly to player links, Manager nationality and league (but not club) has an impact on both Player and Team Chemistry. Each player which shares either a league or nationality link with the manager will receive a Chemistry boost, as shown by the small green Tie icon on their card.
Loyalty
Players who have played 10 or more matches for your Club will receive a loyalty bonus, increasing their Player Chemistry by 1. This is indicated by the green shield icon on their card.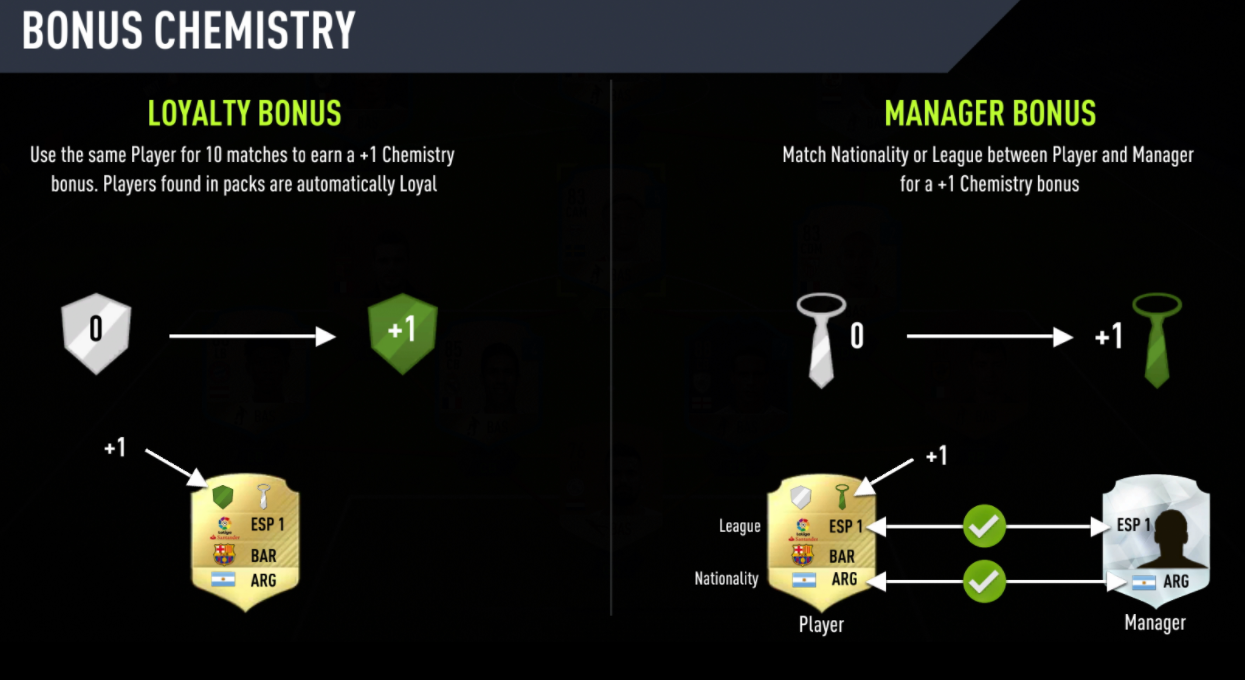 In the end, FIFACOINSGO.com keeps on giving you freshest FIFA 18 news and guide. As FIFA 18 release recently, our web store provide cheap FIFA 18 coins. Buy cheap coins with Discount Code
'FIFA18'-get 5% discount. Follow our Facebook and Twitter to get more discount information.