SEARCH
Purchase Your Order Status Enquiry
WHY CHOOSE US
Security Payment

We support 20 multiple Global Currencies and various security kinds of payment methods by PayPal, Skrill(MoneyBooker), PaySafeCard to buy fifa coins convenient.

Best Price

Enough cheap FIFA 17 Coins & FIFA Points Account in-stock, we always keep the lowest price and FIFA Coins discount coupon code you can get for all fifa platforms.

Instant Delivery

Sufficient FUT Coins & FUT 17 Coins can ensure delivery in 5-30 mins, easy to order, safe to buy, 24/7 LIVECHAT online support solves your FIFA Coins transaction problems!

Safety Gurantee

Professional online service allow us to efficiently deal with all issues and guarantee FIFA 17 Coins & FIFA 17 Points Accounts 100% safe and 100% refund policy.
FIFA 18 Squad Battles Rewards and Schedule - All Info
10/18/2017 3:11:48 PM
What are the FIFA 18 Squad Battles? What rewards are there and when will I receive the bonuses? All you need to know about this new single-player mode in the Ultimate Team (FUT 18) is here.
The Squad Battles are among the most important innovations in the FIFA Ultimate Team mode. They can be found in FUT 18 under the menu item "Single Player". There you can start them.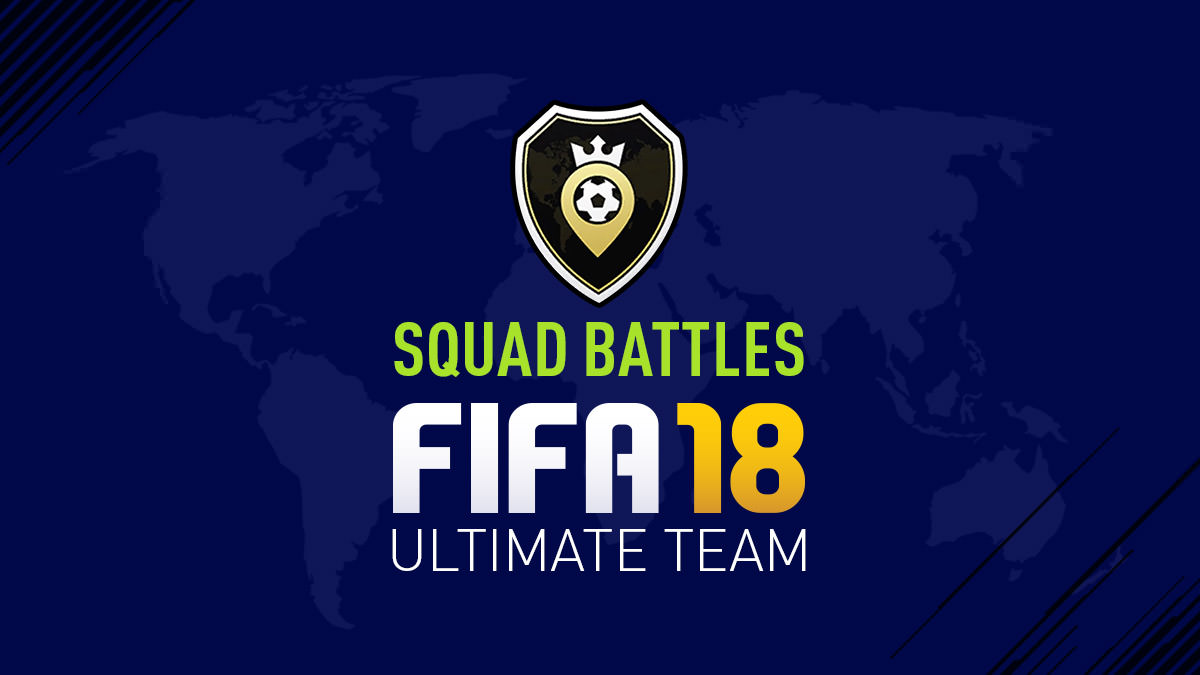 What are the Squad Battles in FUT 18?
The squad battles can be explained in a very short way:
- They are a new single player mode in FUT 18. They can not be played in the multiplayer.
- You are playing against teams from all over the world. The better your performance is and the more games you make, the more points (Battle points) you get.
- The more points you accumulate within a week, the higher you climb in the ranking list and the better rewards are there.
In the community, the Squad Battles are already called the "Offline FUT Champions" because both modes are similar: you play as many games as possible, show good performances and thereby rank in a ranking list. Depending on your rank, there are bonuses.
Unlike FUT Champions and the Weekend League
- You do not have to qualify for the Squad Battles,
- The games are spread more widely throughout the week,
- There are no monthly bonuses,
- And the prices are slightly lower.
However: Squad Battles are now the most lucrative single player mode in FUT 18. All rewards and ranks can be found at the end of the article.
FIFA 18 Squad Battles Schedule in the Ultimate Team - All important dates
You can only play four new Squad Battles every day - except on the weekends. Several are possible.
Each squad battle competition consists of 11 rounds:
Round 1: Monday 2 am to Tuesday 2 am
Round 2: Tuesday 2 am to Wednesday 2 am
Round 3: Wednesday 2 am to Thursday 2 am
Round 4: Thursday 2 am to Friday 2 am
Round 5: Friday 2 am to Saturday 2 am
Round 6: Saturday 2 am to Saturday 10 am
Round 7: Saturday 10am to Saturday 6pm
Round 8: Saturday 6 pm until Sunday 2 am
Round 9: Sunday 2 am to Sunday 10 am
Round 10: Sunday 10 am to Sunday 6 pm
Round 11: Sunday 6 pm to Monday 2 am
For each round, you will receive four new matches.
A squad battle event always takes a week. Every Monday at 2 o'clock in the morning, the ranking lists are reset, the prizes are disbursed and a new competition begins.
What FIFA 18 Squad Battles rewards are there and when do I get them?
In the Squad Battles, the best single FUT players can earn excellent prizes. These rewards range from FIFA 18 coins to leverage packs to "ultimate packs".
You receive the rewards weekly on the night from Monday to Tuesday (after 2 hours) as soon as a squad battle competition is over. You must then start the Squad Battles mode to get the rewards.
Keep in mind that the cards from the reward packs are "tradeable". So you can put them on the transfer market and sell them. When you open your reward packs, you are left to it. They do not decay.
These are premiums depending on your rank:
Bronze 3 (100% -94% of all players) - 2 Premium Leplayer Reward Packs
Bronze 2 (93% -87% of all players) - 1 Ultimate Loan Player Reward Pack
Bronze 1 (86% -80% of all players) - 1 Gold Pack, 1 Silver Pack, 1,150 Coins
Silver 3 (79% -65% of all players) - 2 Gold Packs, 2000 coins
Silver 2 (64% -52% of all players) - 2 Gold Packs, 1 Premium Gold Pack, 4850 coins
Silver 1 (51% -40% of all players) - 2 Premium Gold Packs, 1 Gold Pack, 10,900 coins
Gold 3 (39% -28% of all players) - 2 Jumbo Premium Gold Packs, 12,000 coins
Gold 2 (27% -16% of all players) - 1 Premium Gold Players Pack, 1 Jumbo Premium Gold Pack, 13,000 coins
Gold 1 (15% -10% of all players) - 1 Premium Gold Players Pack, 2 Jumbo Premium Gold Packs, 12.400 Coins
Elite 3 (9% -5% of all players) - 1 Rare Gold Pack, 1 Premium Gold Players Pack, 1 Jumbo Premium Gold Pack, 20,800 Coins
Elite 2 (4% -2% of all players) - 2 Mega Packs, 25,200 coins
Elite 1 (1% of all games to top 100) - 2 Mega Packs, 39,800 coins
Rank 100-51 - 2 Mega Packs, 1 Rare Players Pack, 65,000 Coins
Rank 50-21 - 1 Jumbo Rare Players Pack, 2 Mega Packs, 65,000 Coins
Rank 20-11 - 2 Rare Players Packs, 1 Jumbo Rare Players Pack, 75,000 Coins
Rank 10-2 - 1 Ultimate Pack, 2 Rare Players Packs, 87,500 Coins
Rank 1 - 2 Ultimate Pack, 2 Rare Mega Packs, 100,000 Coins