SEARCH
Purchase Your Order Status Enquiry
WHY CHOOSE US
Security Payment

We support 20 multiple Global Currencies and various security kinds of payment methods by PayPal, Skrill(MoneyBooker), PaySafeCard to buy fifa coins convenient.

Best Price

Enough cheap FIFA 20 Coins & FIFA Coins Account in-stock, we always keep the lowest price and FIFA Coins discount coupon code you can get for all fifa platforms.

Instant Delivery

Sufficient FUT Coins & FUT 20 Coins can ensure delivery in 5-30 mins, easy to order, safe to buy, 24/7 LIVECHAT online support solves your FIFA Coins transaction problems!

Safety Gurantee

Professional online service allow us to efficiently deal with all issues and guarantee FIFA 20 Coins & FIFA 20 Coins Accounts 100% safe and 100% refund policy.
FIFA 18 Worst Players With Lowest Ratings - Top 10 Lowest Rated Players In FUT 18
The worst players in the FIFA 18 Ultimate Team can be seen here. These are the 10 weakest players in FUT 18!
If you are looking for the best players for your Ultimate Team, then you are completely wrong! Because we now take a look at 10 players who have the doubtful honor of being the worst kickers in FUT 18.
However, these players are not "worthless" at the lowest end of the rating list: Partially you have to spend thousands of coins on the transfer market to buy them.
This has a reason: some tournaments have as a prerequisite a maximum overall team assessment. If you place the worst bronze players on the bench (the substitutes also count into the overall rating), you can put strong players into the starting line and still meet the tournament requirements.
Say, players with the weakest ratings can push the team overall score down properly. However, EA Sports can put a stop to this trick by adding as an additional requirement that all players must be at least gold-quality or silver-quality.
FIFA 18 Worst Players – Top 10 Lowest Rated Players In FUT 18
There are 10 players in FUT 18 with the lowest overall rating of 46. That is:
Max Wright
Jack Keeble
Tom Sawyer
Mikey Whelan
Josh Lundstram
Leslie Sackey
Tommy Käßemodel
Jordan Young
Matthew Foy
Harry Clifton
Here are the stats for these players (from left to right: Tempo, Shooting, Pass, Dribbling, Defense, Physical):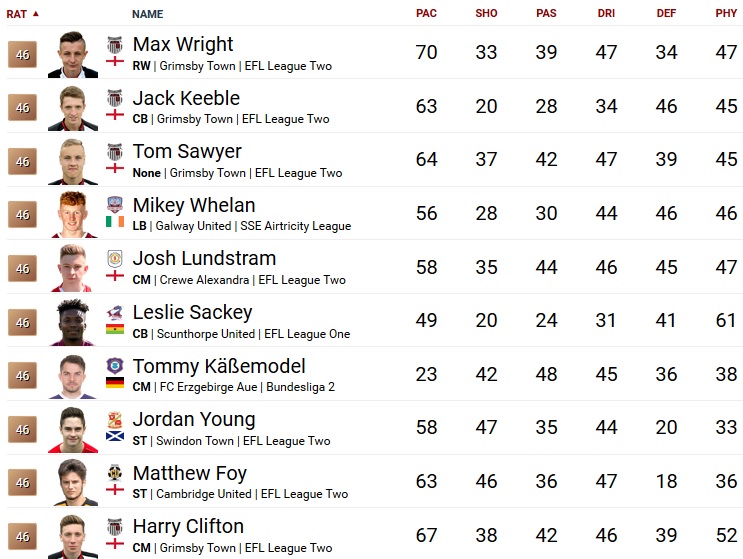 The weakest German player is Tommy Käßemodel from Erzgebirge Aue. It is interesting: He is not an active football pro!
As RAN reported, the club from the 2nd Bundesliga still needed a fourth "local player" between 15 and 21 years, who was eligible for Aue. Because, according to a Bundesliga rule, at least four players must be in the squad, which have sprung from their own youth program.
And since Aue had only three such players at the time, they equipped Käßemodel with a contract.
Actually Käßemodel is a witness at Aue, who was formerly a youth goalkeeper. He is not planned for the game. It is therefore strange that he can be played in FIFA 18 at all.
FIFA 18 Worst Goalkeeper – Lowest Rated Goalkeeper in the FIFA 18 Ultimate Team
There are also two goalkeepers with the lowest overall rating of 46:
Adam Kelsey
Barry Richardson
If you plan to create the worst team, you can use them.
More FIFA 18 news will update in our store. FIFACOINSGO.com is one of the best FIFA Coins store for PS4, XB ONE and PC. Cheap FIFA 18 Coins PC, PS4 and XB ONE for sale in here!