SEARCH
Purchase Your Order Status Enquiry
WHY CHOOSE US
Security Payment

We support 20 multiple Global Currencies and various security kinds of payment methods by PayPal, Skrill(MoneyBooker), PaySafeCard to buy fifa coins convenient.

Best Price

Enough cheap FIFA 20 Coins & FIFA Coins Account in-stock, we always keep the lowest price and FIFA Coins discount coupon code you can get for all fifa platforms.

Instant Delivery

Sufficient FUT Coins & FUT 20 Coins can ensure delivery in 5-30 mins, easy to order, safe to buy, 24/7 LIVECHAT online support solves your FIFA Coins transaction problems!

Safety Gurantee

Professional online service allow us to efficiently deal with all issues and guarantee FIFA 20 Coins & FIFA 20 Coins Accounts 100% safe and 100% refund policy.
FIFA 17 Winter Transfers Guide - Best Winter Transfers Investments On FUT
Winter transfer window is going to open, some players will leave their old clubs to continue their careers in new ones, and some players will go back their original clubs after their loan contracts have expired. Every year, for matching player transfers happen in the real-world, EA Sports will make those same changes by releasing new cards with new clubs for the players who get transferred. Due to this, their old cards will be rare in market and become good investments in FIFA 17 transfer market.
It is easy to understand what is FIFA 17 Ultimate Team Winter Transfer, but there is some details and the best investment in it you should know. In this guide, we would like to explain all details and investment of FIFA 17 Winter Transfer.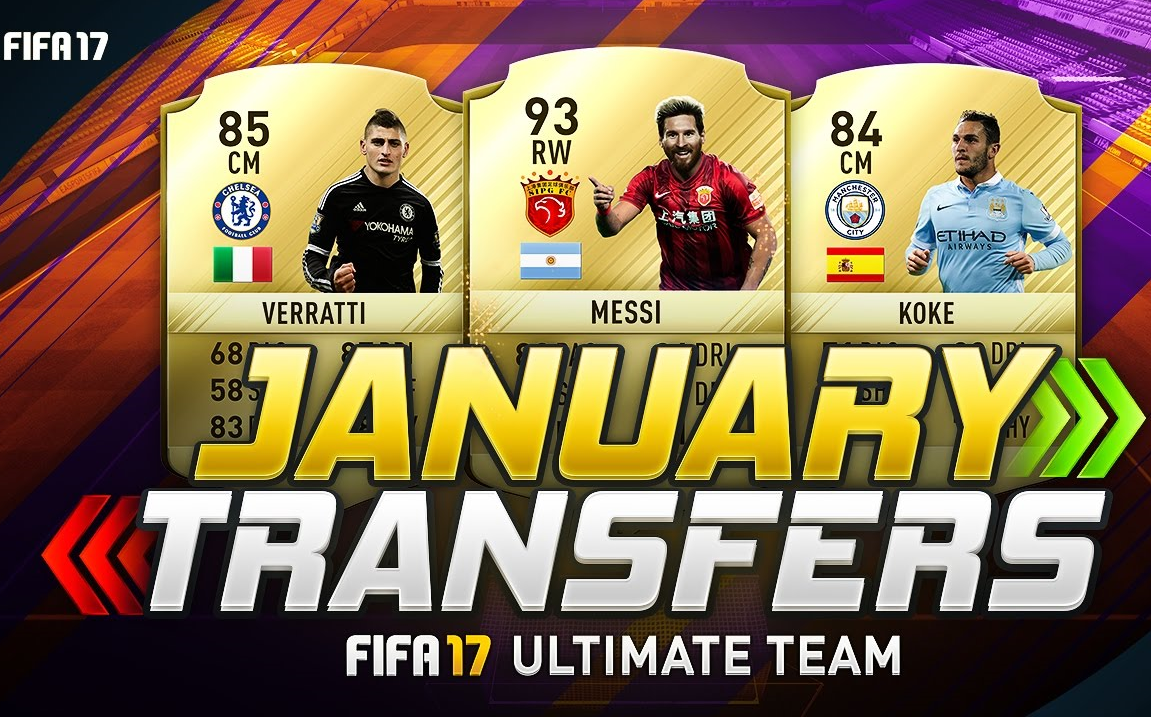 1. What will EA exactly to do for a player moves to another club?
When a player moves to another club, EA will release the player's new cards with new club which will start coming in packs. The player's old cards that already existed remain the same with the old club on it, and will not get an update. So there will be 2 regular cards for one single player exists in game. You can have both cards in your club, but only one can be used in a squad.
2. When does the transfer take place in FIFA 17?
As there are two transfer seasons in the real world: Winter Transfers Season and Summer Transfers Season, EA usually release transfer cards at same time to updating the game. So the winter transfer in FIFA 17 takes place within January / February. FIFA 17 Winter Transfers takes place before FIFA 17 Winter upgrades.
The biggest FIFA 17 Winter transfers we predict will be released in the following dates:
06/01/2017
13/01/2017
20/01/2017
27/01/2017
03/02/2017
3. Will EA update all transfer players' card at one time?
No, usually they release the new cards for transferred players in a certainly time, such as per week one update, but sometimes they would do a fast update, the transfer cards are released as the transfers are occurring.
4. Do all transferred players get a new card?
Supposedly the answer should be "Yes", no matter the transferred player on loan or not, especially on the most popular leagues. But there are some exceptions. Such as some players from less popular leagues would be "forgotten"; some certain players stop coming from packs because he moved to a club that's not in FIFA 17; some players was among the Winter transfers in the real world but he played for a club that isn't in FUT 17, will not get a new card even if they're moving to a FIFA 17 licensed club.
5. What are the differences between a transferred player's old card and new card?
The only difference between the new card and the old one is the club and eventually the league.
6. Can a transferred player get upgraded?
Yes, If a player deserve upgrade who just get a new card for transferring, his new card also can be upgraded.
7. Is there any benefit we can get from FIFA 17 Ultimate Team Winter transfer?
Since the new cards are released, you can build squads with good chemistry easier for the increasing of league/club possible combinations. If you already have a team, you have more choices for your team because more players are available in the league you're playing in.
8. Will the market will be effected by winter transfer new cards?
Yes, but no crash. When a player goes to a popular club, the price of his new card will rise to even three times the original value, but after a few days it'll eventually get close to the old card's value. When a player goes to less popular clubs, his new card's price gets a bit superior, but after some time his old cards to be considered the most valuable one while becoming rare enough.
9. Is there any good investment in FIFA 17 Winter transfers?
Yes, the players' cards that stop coming from packs will become rarer and more expensive. You can buy these cards in advance, sell it for a much greater price later when there is not many offered in the market.

If you need any cheap FIFA 17 Coins and FIFA 17 Coins Account to invest on FIFA 17 TOTW 14 and FUTmas SBC, welcome to get best deals on Fifacoinsgo.com.
1. Coupon Code "FIC" - 5% Discount
2. Register our membership to become VIP, you will get Member Coins for free FIFA Coins
3. Following our Facebook, Twitter, Google+, you will get the latest Promotion and Special deals for FIFA Coins & FIFA 17 Coins Account
4. 24/7 online services for FIFA Coins Transaction Problems, feel free to hit us up through LIVECHAT!