SEARCH
Purchase Your Order Status Enquiry
WHY CHOOSE US
Security Payment

We support 20 multiple Global Currencies and various security kinds of payment methods by PayPal, Skrill(MoneyBooker), PaySafeCard to buy fifa coins convenient.

Best Price

Enough cheap FIFA 20 Coins & FIFA Coins Account in-stock, we always keep the lowest price and FIFA Coins discount coupon code you can get for all fifa platforms.

Instant Delivery

Sufficient FUT Coins & FUT 20 Coins can ensure delivery in 5-30 mins, easy to order, safe to buy, 24/7 LIVECHAT online support solves your FIFA Coins transaction problems!

Safety Gurantee

Professional online service allow us to efficiently deal with all issues and guarantee FIFA 20 Coins & FIFA 20 Coins Accounts 100% safe and 100% refund policy.
Home
>>
News
>>
1232 Fifa 17 Career Mode Loan Glitchpotential Glitch Easy Way To Grow Players Potentials Fast
FIFA 17 Career Mode Loan Glitch/Potential Glitch - Easy Way To Grow Players Potentials Fast
In FIFA 16, a fast and useful potential glitch to grow young players potential fast in FIFA Career Mode has been known to many players, which is Loan Glitch. But this year, EA Sports has made some changes on Career Mode, does the loan glitch still work on FIFA 17? The answer is YES! If you still haven't know this FIFA 17 Career Mode Loan Glitch, please read our guide as below carefully to learn all the tips about the glitch!
FIFA 17 Career Mode Loan Glitch Simple Explained
Basically you loan someone out and recall them. When you do this it changes their potential.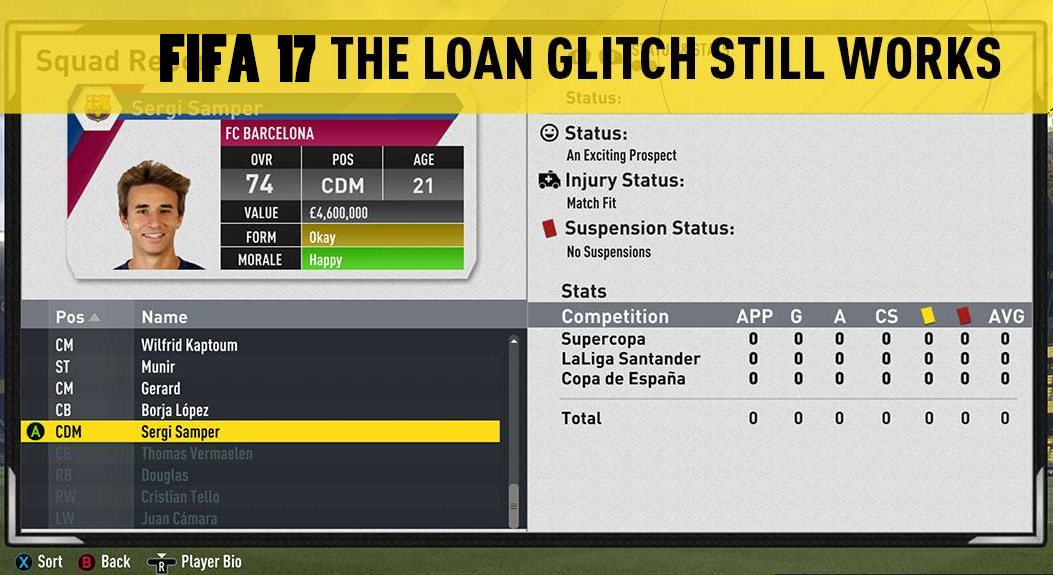 The Conditions For The Glitch To Work
Now the FIFA 17 Loan Giltch doesn't not work for all players as well as in FIFA 16! How does the FIFA 17 Career Mode Loan Glitch work? First we should know everything involved in the loan glitch, and in what conditions the glitch can work.
Players Ages - 16 Years To 21 Years Old
The Loan Glitch only works for players in a specific age category and that is between 16 years old and 21 years of age. After a player has reached his 22nd birthday, their status will change back to at the club since (when you bought him) and he will develop according to what potential you ended up getting him.
Players Status
All of your players status, each has a meaning and we will go through all of them so that you understand what each means.
'Recently joined from *** for ***'. This will be a player's status who you have recently signed and will remain until the next transfer window.

'At the club since ***'. This tells us that the player has a potential of less than 80.

'Has that something special'. The same as the status above, but only appears when the player has the flair trait.

'Showing great potential'. The player's potential is in the range of 80-84.

'Exciting prospect'. Potential is in the range of 85-89.

'Has potential to be special'. Potential is 90+ (technically 90-94 as potential cannot be higher than 94.)
Players Ratings - 60 and 60+
The players' overall must be at least 60. If not, then again you won't be shown any status referring to potential.
Players Potential - 70 and 70+
The players' current potential must be at least 70 because the loan glitch can only alter a player's potential by 10 at the most. This is the main Coin which cause the glitch is not working for many gamers. If the current potential is less than 70 it cannot go up to 80, therefore there is no status that tells is if it has changed. So if you sign a player who has a potential of 75 it could drop to below 70 without you knowing.
Noted: A player can be struggling, then go on loan and do really well, then continue playing well when he returns from loan. In that case you could say that his potential has gone up. Similarly, players can look really promising but then really struggle at a new club, their potential seems to have gone down. So make sure you save before recalling them.
How to does the loan glitch work exactly? - Step by step perform guide
Pick the player you want to glitch, making sure he meets the criteria listed above and note his status.

Put him on the loan list. Doesn't matter of it's season or short, but it is cheaper to recall a player who is on a short loan.

Wait for a loan offer from another team. Doesn't matter who it is.

Accept the offer.

Save the game.

Go into the squad status tab and find your player. The loaned players are at the bottom of the list.

Open your player's profile by clicking X or A.

Select 'recall from loan for ***'

Back out of that screen by pressing O or B and scroll back up the list to find your player.

Now the potential of your player has been changed, it may go down or up. If it went down, then exit out of your career mode, load it up again and repeat steps 6-9. The best option is always to have a saved game as soon as they're out on loan and keep loading the game back up again until you get the results that you want.
Note: here are most information from Reddit Poster: CristofReyes, thanks for his sharing.
Watch below video made by BMOnus - FIFA 17 Career Mode on Youtube, to get know more tips for How to GLITCH Player Potentials to Maximize Growth in FIFA 17 Career Mode!
That's all about the Loan Glitch in FIFA 17 Career Mode, hope it can help you to grow up your young players potential in short time!