SEARCH
Purchase Your Order Status Enquiry
WHY CHOOSE US
Security Payment

We support 20 multiple Global Currencies and various security kinds of payment methods by PayPal, Skrill(MoneyBooker), PaySafeCard to buy fifa coins convenient.

Best Price

Enough cheap FIFA 20 Coins & FIFA Coins Account in-stock, we always keep the lowest price and FIFA Coins discount coupon code you can get for all fifa platforms.

Instant Delivery

Sufficient FUT Coins & FUT 20 Coins can ensure delivery in 5-30 mins, easy to order, safe to buy, 24/7 LIVECHAT online support solves your FIFA Coins transaction problems!

Safety Gurantee

Professional online service allow us to efficiently deal with all issues and guarantee FIFA 20 Coins & FIFA 20 Coins Accounts 100% safe and 100% refund policy.
Home
>>
News
>>
1236 Fifa 17 Totw 15 Predictions Tif Icardi, Sif Pedro, If Thiago, If Silva, If Briand, If Reid In Team Of The Week 15
FIFA 17 TOTW 15 Predictions: TIF Icardi, SIF Pedro, IF Thiago, IF Silva, IF Briand, IF Reid In Team Of The Week 15
2016/12/27 15:22:39
FIFA 17 TOTW 15 Predictions is live for you here. With the festive season arriving, a TOTW include several top names is not a bad gift to FIFA fans, good news is that likely Pedro, Icardi, Silva, Thiago all make the cut, only one pity is no players from La Liga will appear in FIFA 17 TOTW 15 as they have been off for holiday since the week before Christmas. Read the details as below.
FIFA 17 TOTW 15 (Team Of The Week 15) Predictions
FIFA 17 TOTW 15 Starting XI Predictions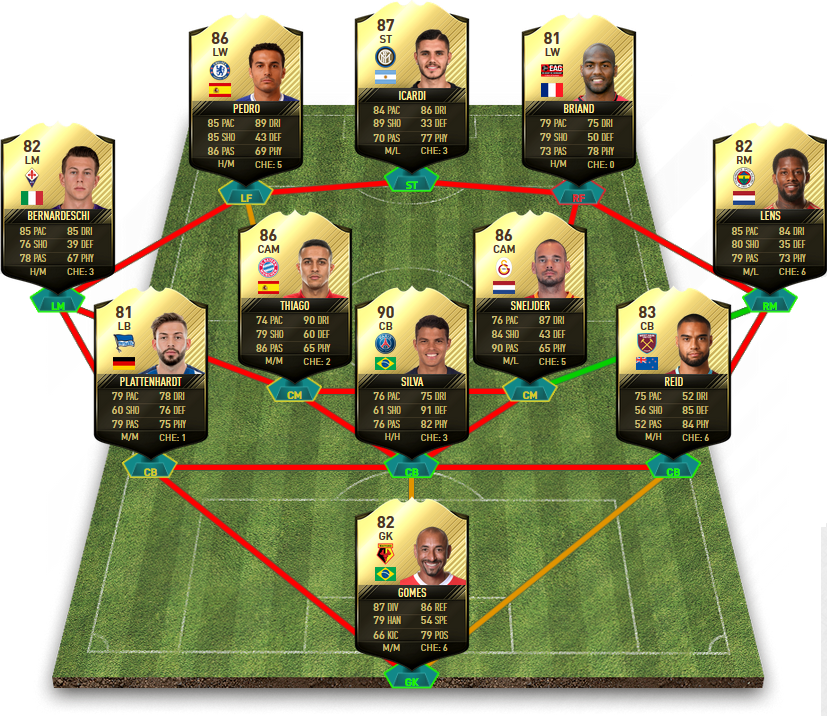 GK: Gomes (Watford) - penalty save + 3 saves in 1-1 draw - 78 > 82
CB: Winston Reid (West Ham) - 1 goal in 4-1 win - 81 > 84
CB: Thiago Silva (PSG) - 89 > 90 - 1 goal in 5-0 win - 89 > 90
LB: Marvin Plattenhardt (Hertha) - 1 goal 1 assist in 2-0 win - 77 > 81
RM: Jeremain Lens (Fenerbahce) - 1 goal 1 assist in 3-0 win - 81 > 83
CAM: Wesley Sneijder (Galatasaray) - 1 goal 3 assists in 5-1 win - 83 > 84 > 85
CAM: Thiago (Bayern) - 1 goal 1 assist in 3-0 win - 84 > 86
LM: Federico Bernardeschi (Fiorentina) - 2 goals 1 assist in 3-3 draw - 78 > 82
ST: Mauro Icardi (Inter) - 2 goals in 3-0 win - 82 > 84 > 86 > 87
LW: Jimmy Briand (Guingamp) - 2 goals in 2-2 draw - 76 > 81
ST: Pedro (Chelsea) - 2 goals in 3-0 win - 83 > 85 > 86
FIFA 17 TOTW 15 Substitutes Predictions

GK: Nahuel Guzmán (Tigres) - 3 shootout saves + 2 saves in 2-1 playoff final win - 78 > 82
RB: Rhyan Grant (Sydney FC) - 1 goal 1 assist in 4-0 win - 64 > 64
CB: David Wheater (Bolton) - 2 goals in 2-1 win - 69 > 72
RM: Serdar Gürler (Genclerbirligi) - 2 goals 1 assist in 3-1 win - 72 > 74
RM: Billy Bodin (Bristol Rovers) - 3 goals (1 penalty) 1 assist in 4-1 win - 64 > 64
ST: Branimir Hrgota (Frankfurt) - 2 goals 1 assist in 3-0 win - 71 > 74
ST: Ian Henderson (Rochdale) - 2 goals 1 assist in 3-0 win - 66 > 71
FIFA 17 TOTW 15 Reserves Predictions

CB: Glenn Loovens (Sheffield Wednesday) - 1 goal in 1-0 win - 69 > 72
CM: Ruud Vormer (Club Brugge) - 2 goals in 4-1 win - 77 > 81
CAM: Diego Farías (Cagliari) - 2 goals 1 assist in 4-3 win - 74 > 74
ST: Omar Al Soma (Al Ahli) - 2 goals 1 assist in 4-1 win - 78 > 82 > 84
ST: Łukasz Teodorczyk (Anderlecht) - 2 goals in 3-2 win - 75 > 81