SEARCH
Purchase Your Order Status Enquiry
WHY CHOOSE US
Security Payment

We support 20 multiple Global Currencies and various security kinds of payment methods by PayPal, Skrill(MoneyBooker), PaySafeCard to buy fifa coins convenient.

Best Price

Enough cheap FIFA 20 Coins & FIFA Coins Account in-stock, we always keep the lowest price and FIFA Coins discount coupon code you can get for all fifa platforms.

Instant Delivery

Sufficient FUT Coins & FUT 20 Coins can ensure delivery in 5-30 mins, easy to order, safe to buy, 24/7 LIVECHAT online support solves your FIFA Coins transaction problems!

Safety Gurantee

Professional online service allow us to efficiently deal with all issues and guarantee FIFA 20 Coins & FIFA 20 Coins Accounts 100% safe and 100% refund policy.
FIFA 18 Top 5 Best Portugal Players Ratings Prediction
2017/7/7 17:13:43
There are many outstanding Portugal players who always present us a brilliant football match, such as Ronaldo, Silva and Pepe. As FIFA 18 is approaching, today we share you our prediction of top 5 best Portugal players ratings in FIFA 18. You can take a look at whether your favorite player is included in this list.
TOP 5 DANILO PEREIRA 84
Pereira plays for FC Porto as a defensive midfielder. He is one of the few players Porto can trust always. He is totally a beast in football field. He is so overpowered that you can't miss him in FIFA 18. His 68 pace in FIFA 17 card is a little bit on the slow side for a CDM. Being an athletic monster, he deserve an upgrade in his pace. He's got great sprint speed, way faster than some of those sluggish 70 paced strikers. This man sometimes may go unnoticed, but he's always there providing the security in the midfield.
TOP 4 JOÃO MOUTINHO 83
Moutinho mainly plays as a central midfielder, but he can also operate as a defensive or attacking midfielder, and on either flank. He is also an amazing player. His performance in last season was not bad with 4 goals and 6 assists. But we think there remains a huge space for him to get improvement. Taking all factors into consideration, we hold the view that his rating in FIFA 18 will still remain the same as in FIFA 17.
TOP 3 BERNARDO SILVA 84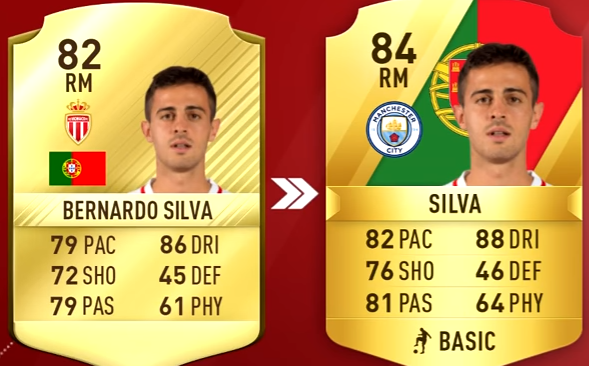 Silva plays for English club Manchester City and the Portugal national team as a midfielder. This man have made many critical goals for him team in last season. His passing skill must leave everyone a deep impression. Besides, a lot of FIFA fans even rate him as one of the biggest talent. Indeed his rating in FIFA 17 was too underrated. We predict his rating in FIFA 18 will get a huge upgrade from 82 to 84.
TOP 2 PEPE 86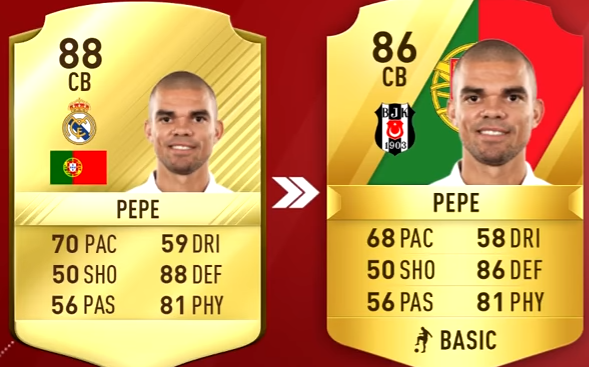 Pepe plays for Turkish club Beşiktaş and the Portuguese national team as a central defender. An aggressive, physically strong and tenacious defender, Pepe is known for hard-tackling style of play, and is considered by pundits to be one of the best defenders in world football. In comparison of his previous performance, we find that he is not as good as before. However, he is still one of the top 5 best Portugal players.
TOP 1 CRISTIANO RONALDO 95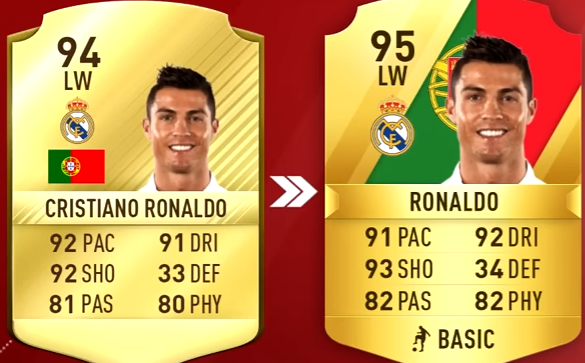 Ronaldo plays as a forward for Spanish club Real Madrid and the Portugal national team. Although he was not as good as he used to be the last couple of years, he is still the best Portugal player, or even the best in the world. In the Champions League he was just fantastic for Real Madrid. However, opinions from FIFA fans towards his rating in FIFA 18 are vary greatly. Some think he deserve an upgrade while some think hold opposite view. What's your opinion towards his rating? You can share your opinion with us.
FIFA 18 will be released in tow months, FIFACOINSGO.COM is preparing to offer you cheap FIFA 18 Coins, stay tuned for more details.
FIFA 18 will be released in tow months, FIFACOINSGO.COM is preparing to offer you cheap and legit FIFA 18 Coins, stay tuned for more details.