SEARCH
Purchase Your Order Status Enquiry
WHY CHOOSE US
Security Payment

We support 20 multiple Global Currencies and various security kinds of payment methods by PayPal, Skrill(MoneyBooker), PaySafeCard to buy fifa coins convenient.

Best Price

Enough cheap FIFA 20 Coins & FIFA Coins Account in-stock, we always keep the lowest price and FIFA Coins discount coupon code you can get for all fifa platforms.

Instant Delivery

Sufficient FUT Coins & FUT 20 Coins can ensure delivery in 5-30 mins, easy to order, safe to buy, 24/7 LIVECHAT online support solves your FIFA Coins transaction problems!

Safety Gurantee

Professional online service allow us to efficiently deal with all issues and guarantee FIFA 20 Coins & FIFA 20 Coins Accounts 100% safe and 100% refund policy.
Home
>>
News
>>
1704 Fifa 18 Most Overpowered Players In La Liga Op Goalkeepers, Defenders, Midfielders, Wingers, Strikers
FIFA 18 Most Overpowered Players in La Liga - OP Goalkeepers, Defenders, Midfielders, Wingers, Strikers
2017/8/28 15:40:56
Last time, we share you FIFA 18 the most overpowered players in Premier League. And this time, we are going to continue to share you FIFA 18 most overpowered players in La Liga, which include 85 Casemiro, 84 Umtiti and 84 Laporte. Below is our full list. You can take a look to decide which players are you going to invest.
Most Overpowered Goalkeepers
Norberto Murara Neto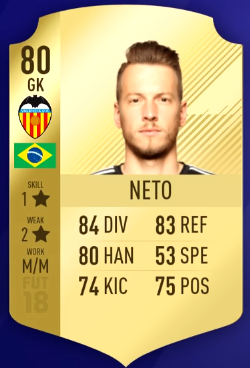 Neto is becoming the first team goalkeeper for Valencia after being on the pitch for couple of seasons with 84 diving, 83 reflex and 80 handling. He is the man to get for a cheap price.
Sergio Rico
A lot o clubs want to get Sergio Rico, but he signed a brand new contract keeping in with Sevilla for a lot of seasons in the future. And this man has a nice card coming to him in FIFA 18 with 85 reflex, 83 diving and 82 handling and positioning.
Most Overpowered Defenders
Aymeric Laporte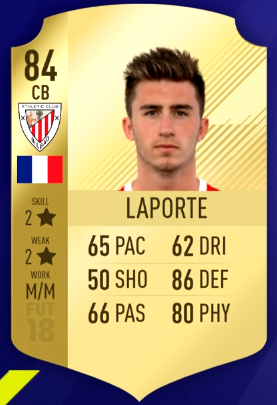 Maybe some of you will doubt that why Laporte hasn't been bought by a big club. The fact is that he could make a bigger step in his career. Although he is only 24 years old, his card is very nice with amazing defending.
Samuel Umtiti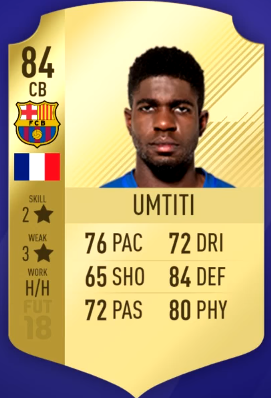 Samuel Umtiti did good in his first season at Barcelona. We know that he made some mistakes in some games. But as a young player, Umtiti did good in a big team, in a big league. And with his 76 pace, he is especially good at defending with 84 rate.
Most Overpowered Midfielders
Casemiro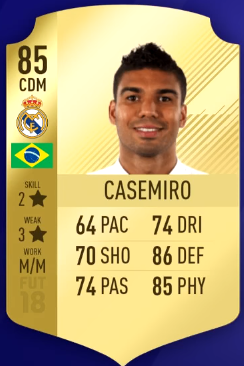 Casemiro will be such a nice player to use. And FIFA 18 will ultimately upgrade his card to 85 with 86 defending, 74 dribbling and 85 physical. He is one of the most complete CDMs in the world. And he is also a great lock on the door in front of the defense.
André Gomes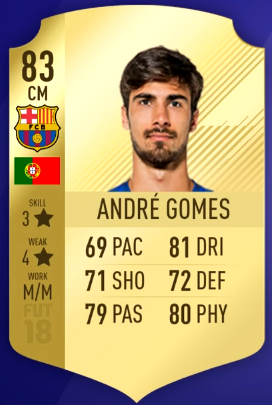 André Gomes is a Barcelona player. Whether FIFA 18 will give him a big upgrade remains to be a big question because he is linked with a move away from Barcelona. But when he stays, he is a nice player to get on your midfield.
Most Overpowered Wingers
Yannick Carrasco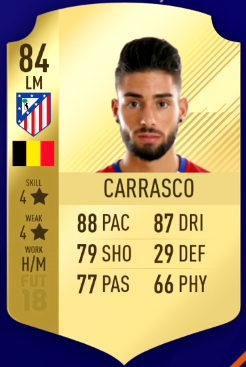 Carrasco may be your favorite player to pick up for a cheap price at the start of FIFA 18. His card in FIFA 18 would be amazing with 88 pace, 79 shooting and 87 dribbling.
Nicola Sansone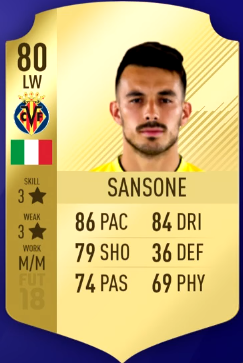 Nicola Sansone comes from Villarreal. Last season he got a big upgrade in the winter. We think his card in FIFA 18 will also be very good with 86 pace, 79 shooting and 84 dribbling.
Most Overpowered Strikers
Wissam Ben Yedder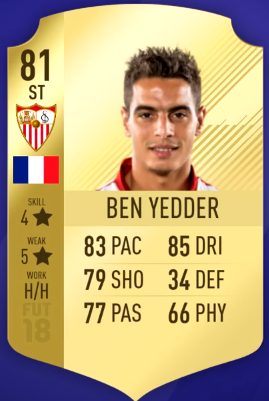 If you love skills and tricks, then Ben Yedder must be your best choice. You can use him as a centre forward or even as a CAM with 83 pace, 85 dribbling and 79 shooting. The only downside on his card is his 66 physical.
Cédric Bakambu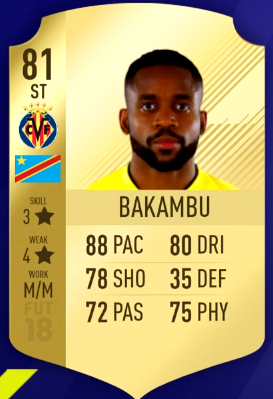 Bakambu is another Villarreal player. He is 26 years old from Congo. He is also a nice player to get with 88 pace, 80 dribbling and 78 shooting. And just like all the other players, 75 physical is great for an attacker with such wonderful pace.
Want to get these overpowered players in FIFA 18? Stock some FIFA 18 Coins at the cheapest price on FIFACOINGO.COM at the first time.