SEARCH
Purchase Your Order Status Enquiry
WHY CHOOSE US
Security Payment

We support 20 multiple Global Currencies and various security kinds of payment methods by PayPal, Skrill(MoneyBooker), PaySafeCard to buy fifa coins convenient.

Best Price

Enough cheap FIFA 20 Coins & FIFA Coins Account in-stock, we always keep the lowest price and FIFA Coins discount coupon code you can get for all fifa platforms.

Instant Delivery

Sufficient FUT Coins & FUT 20 Coins can ensure delivery in 5-30 mins, easy to order, safe to buy, 24/7 LIVECHAT online support solves your FIFA Coins transaction problems!

Safety Gurantee

Professional online service allow us to efficiently deal with all issues and guarantee FIFA 20 Coins & FIFA 20 Coins Accounts 100% safe and 100% refund policy.
Home
>>
News
>>
1683 Fifa 18 Most Overpowered Players In Premier League 84 Sterling, 86 Kanté And 80 Jesus
FIFA 18 Most Overpowered Players in Premier League - 84 Sterling, 86 Kanté and 80 Jesus
2017/8/14 17:26:25
Today we would like to share some cool predictions with all of you. That is FIFA 18 most overpowered players in Premier League, including Jesus, Kanté and Sterling. We will start with goalkeepers and end with strikers. So that you can build your cheap squad step by step. Below is our full list.

Most Overpowered Goalkeepers
Ederson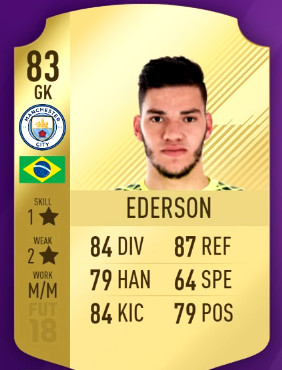 The first one is Ederson. He is the new signing of Manchester City, becoming the second most expensive goalkeeper of all-time. He is quite good at shot stopping, long passing and saving close range shots. His rating will possibly be upgraded to 83. With all those stats, Ederson would be one of the most overpowered and cheap players.
Asmir Begović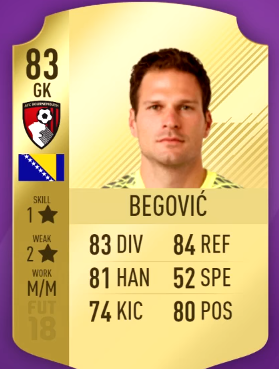 Begović is the first team goalkeeper of Bournemouth. He was an 83 rated card. And we think he will stay that way in FIFA 18, because the man didn't get worse. He was on the bench for one season. But he is still a fantastic goalkeeper with nice long passing and shot stopping.
Most Overpowered Defenders
Eric Bailly
Bailly would be most of your favorite central defender. His 81 pace is just incredible for a central back with 84 defending. An 84 physical is just outstanding. Last year, he ever voted as Manchester United's Player of the Month due to his hard work. So he definitely will be one of the most overpowered players.
Kyle Walker
Probably the most overpowered and most used right back in FIFA 18 in Premier League will be Kyle Walker. As the new signing of Manchester City, he just combines anything, such as speed, physical, defending and also dribbling and passing.
Most Overpowered Midfielders
Jordan Henderson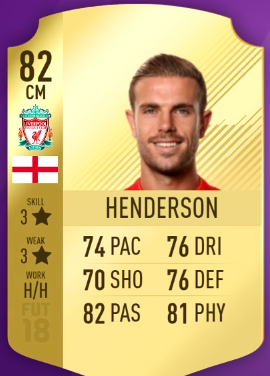 Liverpool fans you can be very excited with Henderson, because his card will look overpowered in the start of FIFA 18. Not sure if he will stay at 82 or go up to 83 because he wasn't that great this season, but still with 74 pace and 82 passing.
N'Golo Kanté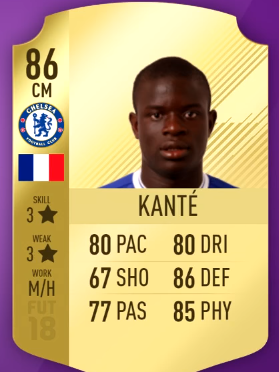 This man is also very important. Last season he showed that he is a great partner as well. To believe us, he is a nice player to get. Kanté from Chelsea was a legend in FIFA 17. We expect a big big upgrade for him. Of course, he will accordingly won't as cheap as last season.
Most Overpowered Wingers
Raheem Sterling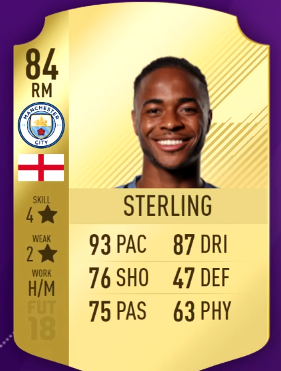 Sterling plays as a winger, attacking midfielder or striker, though he is more comfortable as a natural winger. Sterling has been praised for his adaptability and ability to play wide, at the tip of a midfield diamond and centrally, offering flexibility.
Mohamed Salah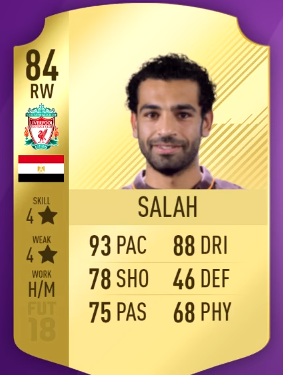 This is a player most of you will use in ultimate team. Believe us, you will see him in a lot of opponents team because of his 93 pace combined with 88 dribbling and 78 shooting. A quick, mobile, hard-working and tactical player, with good technique and an eye for goal, Salah is predominantly known for his speed, dribbling skills, first touch, and ball control, as well as his ability to utilise both his pace and flair on the ball in order to beat opponents, and create scoring opportunities for himself or his teammates.
Most Overpowered Strikers
Gabriel Jesus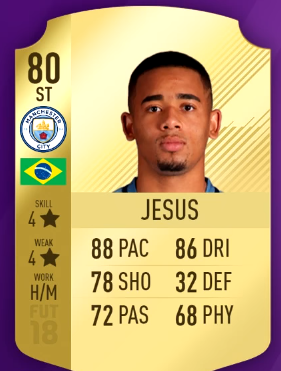 Jesus is renowned for his pace, skill, finishing, and work ethic. The former Brazil forward Ronaldo hailed him and touted him for future success with the national team. You must love him very much in FIFA 18 because of his 4 star skill with 88 pace, 86 dribbling and 78 shooting.
Javier Hernández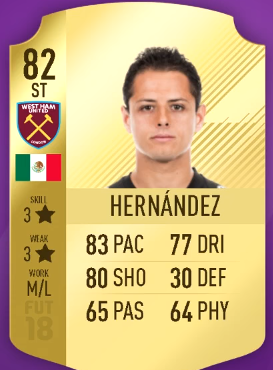 Hernández has made a comeback in the Premier League. He was the overpowered player in the Bundesliga last year. And he can be that yet again for West Ham United. He has been described as one of the few players who seem capable of appearing behind a defender's back to knock in the ball from two yards.
Want to get these overpowered players in FIFA 18? Stock some FIFA 18 Coins at the cheapest price on FIFACOINGO.COM at the first time.