SEARCH
Purchase Your Order Status Enquiry
WHY CHOOSE US
Security Payment

We support 20 multiple Global Currencies and various security kinds of payment methods by PayPal, Skrill(MoneyBooker), PaySafeCard to buy fifa coins convenient.

Best Price

Enough cheap FIFA 17 Coins & FIFA Coins Account in-stock, we always keep the lowest price and FIFA Coins discount coupon code you can get for all fifa platforms.

Instant Delivery

Sufficient FUT Coins & FUT 17 Coins can ensure delivery in 5-30 mins, easy to order, safe to buy, 24/7 LIVECHAT online support solves your FIFA Coins transaction problems!

Safety Gurantee

Professional online service allow us to efficiently deal with all issues and guarantee FIFA 17 Coins & FIFA 17 Coins Accounts 100% safe and 100% refund policy.
Home
>>
News
>>
1253 Fifa 17 Marquee Matchups Sbc January 2017 Predictions And Best Investment Tips For Mm Sbc
FIFA 17 Marquee Matchups SBC January 2017 Predictions and Best Investment Tips For MM SBC
1/4/2017 2:46:29 PM
New month is here, in order to make the best investment for FIFA 17 Marquee Matchups, we see most of you want to figure out which matches will be featured into FIFA 17 Marquee Matchups SBC in January 2017. For helping you to find out the players you can buy in advance for Marquee Matchups Squad Building Challenges, here we list some big games which will happen in football world this month, thanks to Masakari666's guide on Reddit.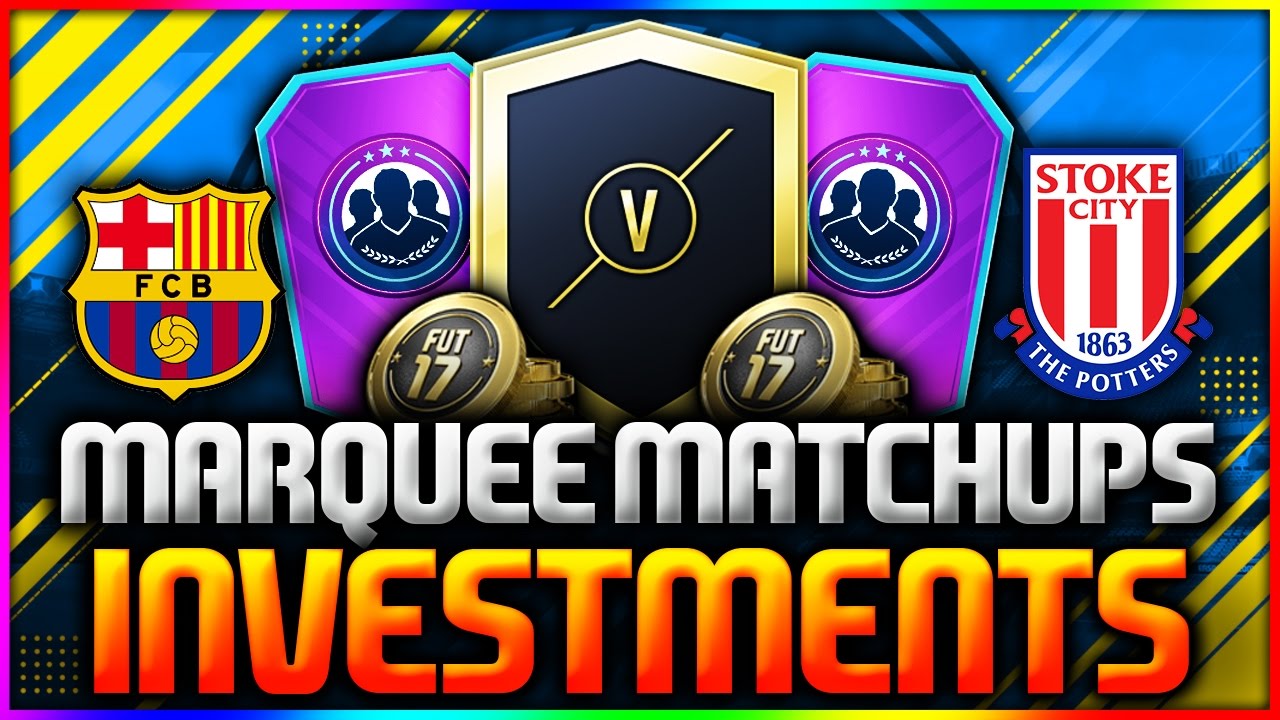 FIFA 17 Marquee Matchups SBC January 2017 Predictions
WEEK 1
Adelaide United x Melbourne Victory, 7/1 – The Cross Border Rivalry

Stoke City x Wolves, 7/1 – Midlands Derby (FA Cup)

Real Sociedad x Sevilla, 7/1 – top table game in La Liga

AJ Auxerre x Troyes AC, 8/1 – Derby de la N77 (Coupe de France)

Villarreal x Barcelona, 8/1 – top table game in La Liga and usually very intense
WEEK 2
Bristol City x Cardiff City, 14/1 – Severnside Derby aka South Wales vs Western England

Notts County v Mansfield, 14/1

Sydney FC x Western Sydney Wanderers, 14/1 – Sydney Derby

Marseille x Monaco, 15/1

Manchester United x Liverpool, 15/1

Sevilla x Real Madrid, 15/1

Algeria x Tunisia, 19/1 – AFCON, Week 2, big north african rivalry
WEEK 3
Twente x Heracles, 20/1 – Twentse Derby

AC Milan x Napoli, 21/1

Bordeaux x Toulouse FC, 21/1 – Derby de la Garonne

Manchester City x Tottenham Hotspur, 21/1

RB Leipzig x Eintracht Frankfurt, 21/1 – recent off-the-field disputes

Villarreal x Valencia, 21/1 – Derby de la Comunitat

Athletic Bilbao x Atletico Madrid, 22/1

SC Braga x Vitória Guimarães, 22/1 – intense Northern Portugal rivalry

Lyon x Marseille, 22/1 – Choc des Olympiques

Egypt vs Ghana, 25/1 – AFCON, Week 3, big african rivalry

Melbourne Victory x Sydney FC, 26/1 – The Big Blue could actually be in Week 4?
WEEK 4
PSG x Monaco, 28/1

Brighton x Newcastle United, 28/1 – top 2 in EFL Championship

Stade Rennais FC x FC Nantes, 28/1 – Derby Breton

Ajax x Den Haag, 29/1 – Hofstad vs. Hoofdstad

Heerenveen x Groningen, 29/1 – Derby van het Noorden

Napoli x Palermo, 29/1 – Derby delle Due Sicilie

AFCON Quarter Final games
FIFA 17 Marquee Matchups SBC Investment Tips
Here are some investment tips for MM SBC from Masakari666.
Scarce positions: many teams only have 1 player in a single position (for ex only 1 LB), or only 1 Gold player in a single position (the team has 2 LBs but the other is Silver), and many MMs only use Golds, so if you identify those, they are a safe bet for buying / investing

Non-rare Golds: tying in to that, there are many non-rare cheap golds that can be invested in for 400 coins and sold for double, triple, sometimes even more;


Req Team Rating: for SBCs with a higher required team rating, slower high rated players are great;


Quantities: usually most of them are 2 or 3 players from each team, and then X number of nationalities or players from the same league.
Get know more FIFA 17 Guides and news on FIFACOINSGO.COM. Also you can buy Cheap FIFA Coins and FIFA Coins Account with VIP Discount Coupon "FIC" here.